The UM Frost School of Music Young Musicians Camp gives elementary to high school students a chance to learn from musical masters
The talented octet of teenage jazz musicians wasn't quite getting the tempo of the song right, so their guest instructor interrupted the practice session to give them some advice.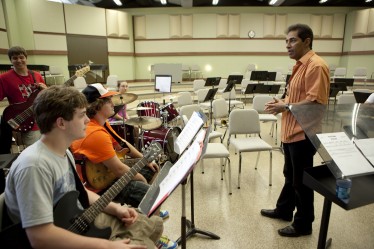 "When you're playing this, there should be contrast," he said, motioning with his hands in an attempt to get his young pupils to feel the rhythm of the song. "You have this raw energy that is captivating, if you let it come through."
And with that, the group took it from the top, this time playing the piece Latin What with more intensity, as their teacher, world-renowned jazz flautist Nestor Torres, performed along with them.
It's not every day teenagers get to learn from a musical legend. But last Tuesday at the University of Miami, a group of young jazz musicians, one of them only 14 years old, not only got coached by Torres, they also performed with the Puerto
Rican-born flautist in a concert the next night.
It was all part of the UM Frost School of Music Young Musicians' Camp, an annual summer workshop where beginning and experienced elementary through high school music students polish their musical skills, whether they sing or play the trumpet or trombone, violin or viola.
"Any child who loves music can come here," said camp director Sarah Neham Salz, noting that this year's enrollment of 300 students (the largest camp ever) included students from Canada, Italy, Mexico, and the Dominican Republic.
Salz works year-round to fund the UM Young Musicians Camp, writing grants to local and state agencies and private individuals. The University of Miami Citizens Board helped fund this year's camp.
Instructional programs, some of which are taught by Frost School faculty members, are offered in guitar, piano, strings, wind, percussion, orchestra, jazz, voice, and musical theater. Students who want to participate in the camp's Honors Chamber Music, Jazz, and Musical Theater Ensembles must audition.
"I learned a lot, like what's needed to be a musician and what it's like [to perform] in the music world," said 14-year-old drummer Emily Maddox, a member of the Honors Jazz Ensemble with which Torres worked and performed.
Maddox, a student at The Sagemont School in Broward County who got her first drum set when she was 10, was taking part in her third UM Young Musicians Camp.
Nestor Torres practices with the Young Musicians campers, who would later perform with the famous flautist at the Third Annual Simon Salz Memorial Concert.
Nestor Torres practices with the Young Musicians campers, who would later perform with the famous flautist at the Third Annual Simon Salz Memorial Concert.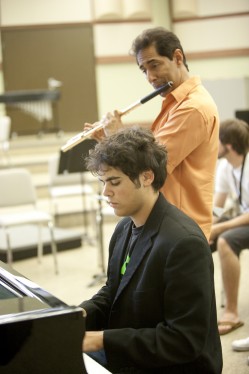 Salz founded the camp ten years ago with her late husband, Simon Salz, a guitarist, band leader, composer, and music teacher who studied at UM and performed with the New World Symphony, Florida Philharmonic, and other orchestras.
The couple met in 1976 at a jazz show at the Unitarian Church in South Miami. "He was playing, and I was in the audience," said Sarah Salz, a classical pianist who earned her bachelor's and master's degrees from the Frost School.
But the idea for the camp actually began several years ago before they met, when as a junior high school student, Simon Salz attended the prestigious Chautauqua Music Camp in New York, getting the opportunity to hear legendary jazz pianist George Shearing perform.
"It was so inspirational for him and motivated him for the rest of his life to become a professional musician," Salz said. "When he got older, he wanted to give kids the same opportunities he had. He believed that children have unlimited potential, and when you put them in the richest environment from the beginning, it allows them to develop to their fullest potential."
When her husband passed away four years ago, the widow started the Simon Salz Memorial concert, which funds scholarships that help students attend the camp. The third annual concert was held Wednesday at UM's Gusman Concert Hall, and featured Torres performing with the Honors Jazz Ensemble and a group of professionals that included jazz multi-instrumentalist Ira Sullivan.
Sarah is already planning for next year's camp, making a list of guest artists she will invite. Torres had performed with her husband on several occasions, and when she invited the famous flautist to make a guest appearance at this year's gathering, he agreed.
She is also applying for more grants, though the bad economy has made fundraising a challenge.
"The students and instructors absolutely love being here, and the Frost School setting makes it the best possible environment," she said. "I simply can't let [the camp] die."